Years ago I playfully created the Pyramid of Racist Black Commentary for. It was used mostly in jest to help those understand how offensive their racist comments were.
Based on public backlash and response to past incidents and I was able to gauge how detrimental and far their actions could go. It's been years and in hindsight, I could include more items on The Pyramid and may actually update it. For now, it can still provide some quick insight into how wrong you can be. Also, in case you were wondering , every rung of The pyramid is offensive. Lastly, I've also included some resources below for your team to hopefully address these and avoid issues. Now to The Pyramid breakdown.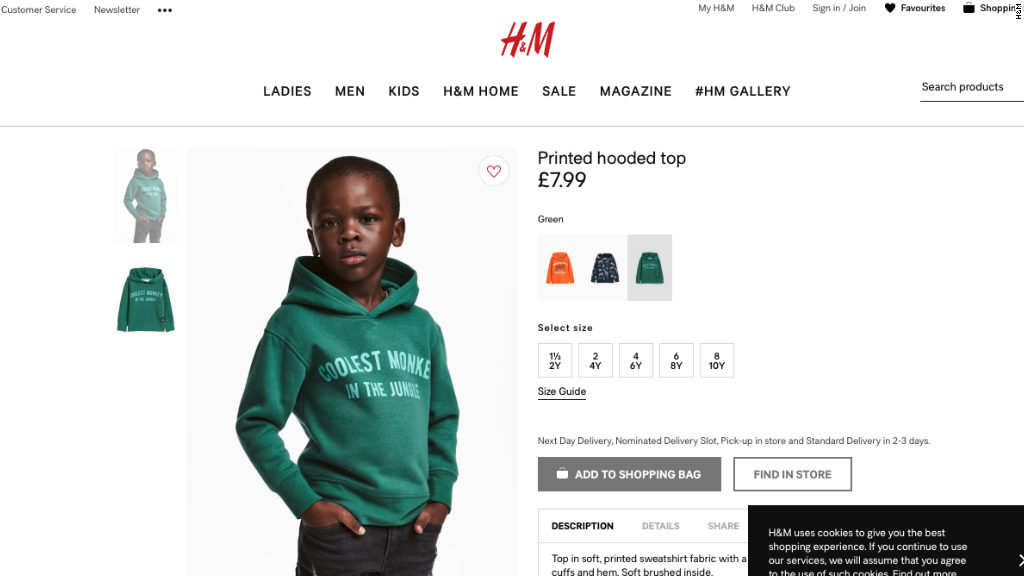 Incident: H&M creates a sweater referencing a monkey and places said sweater on a black boy. The hoodie reads, "Coolest Monkey in the Jungle."
Apology: H&M, based in Sweden, apologized Monday morning for what many said was an insensitive association between the young model and a hateful slur against black people.
As reported to the Daily News, they said, "This image has now been removed from all H&M channels and we apologize to anyone this may have offended,"
Backlash: yup! Twitter was on it. They exposed the site and this image.
Level on the Pyramid: Animal
Black people have been historically compared to monkeys. It's been a common act from old racist ads and movies to European soccer matches getting stopped because racist fans are throwing bananas at black players. Just last year we saw a reporter compare Venus Williams to a gorilla. It's never funny nor appropriate.
Do I think H&M was intentionally being racist? No. They had another sweater in the selection describing a perceived white child as a jungle expert. I notice they've got a jungle theme going but that still doesn't make it ok. It's a tone-deaf decision. They dropped the culturally competent ball. This is a case of a team that has no insight or comprehension of historical context. Your team has to be diverse actual personnel or at a minimum in mind to avoid such a mistake.
To make sure you aren't dropping the ball too check out some of these resources for your staff and students.
1. Here's a great site to help you see how you're doing. It's a great start for an audit of your space.
https://idiinventory.com/
2. University of Michigan's Intergroup Relations offers training and courses
https://igr.umich.edu
3.Georgia Tech University has an opportunity for their campus community to obtain a multicultural competence certificate.
http://mcc.gatech.edu/content/multicultural-competence-certificate-levels-1-3
4.SMU is doing some great work with some great signature programs based on culturally competent dialogue.
http://www.smu.edu/StudentAffairs/Multicultural/SignaturePrograms/Multicultural%20Competence
5. Over at Trill or Not Trill we continue to have these conversations. If you're looking to bring in a speaker check out this talk I deliver, Brief Notes of Haitian Son. A different look at Multiculturalism
https://www.mrjeffdessworks.com/keynote-speeches
6. Check out our previous article on Cultural Competency Model inspired by jokes from Chris Rock.
https://www.trillornottrill.com/chris-rock-cultural-competency/
7. Tia Noelle Duma wrote a dissertation from the University of Louisville with some great information about multicultural competence among advising professionals
http://ir.library.louisville.edu/etd/378/
8. Here's a good research-based text with some pretty current information for educators
Rethinking Cultural Competence in Higher Education: An Ecological Framework for Student Development:
https://www.amazon.com/gp/aw/d/1119295211/ref=mp_s_a_1_2?ie=UTF8&qid=1515404267&sr=8-2&pi=AC_SX236_SY340_QL65&keywords=cultural+competence+higher+education&dpPl=1&dpID=51lyIhpYHkL&ref=plSrch
MrJeffDess is the Co Founder of Trill or Not Trill. He's also a writer, professor, public speaker and emcee of Haitian descent. He is an author of 5 books of poetry, including his latest, Trill Motivation With over ten years of performing and student affairs experience under his belt MrJeffDess continues to strive towards helping students reach their highest potential. For booking information, contact MrJeffDess at TrillorNotTrill@gmail.com or www.mrjeffdessworks.com