Lemonade Meets the Social Change Model
Trill or Not Trill?
The Social Change Model of Leadership Development has been around through different variations since about 1994. It has been used by multiple universities, leadership conferences and more. A key aspect of the model is to understand that leadership is a process; which brings me to Lemonade. Beyonce's visual album is precisely that a process. There are a range of emotions and artistic components throughout which allow for for unconventional ideas just as the social change model seeks to provide guidance for leaders who may not fit traditional roles but do seek positive change. The model is made up of 7 "C's" which are considered critical values of leadership.
This is not to suggest that Beyonce is a leader but I also want to make sure that we look at leadership from various lenses.  If you find yourself having to ever dissect, learn or teach the social change model, Lemonade is here for you.
CONSCIOUSNESS OF SELF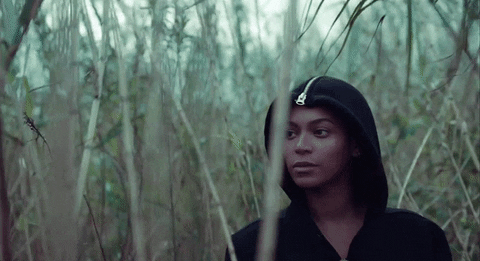 The first "C" refers to being aware of the beliefs, values, attitudes and emotions that motivates one to take action. This component focuses on understanding and focusing on self. Beyonce really focuses on her blackness, womanhood and southern heritage throughout this project. It's important to know who you are, where you came from and how that can impact your role as a leader. Consciousness of self is a great anchor as you move towards creating positive change. Chapter 1 of Lemonade is titled Intuition.  She uses her intuitiveness to serve as a guide in defining who she is, what she represents and what she's going through. What better way find yourself then to trust  yourself. The tone of the album is set and we feel the attitude and sentiment throughout. When you can develop such consciousness, it will help greatly towards understanding and working with others.
CONGRUENCE
Congruence is important because it shows that you are being consistent about the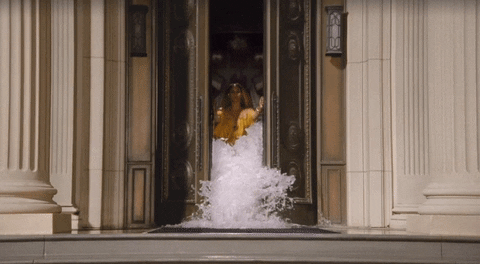 values and things you believe in. Throughout her career Beyoncé has made songs with messages of empowering both young girls and women. With her previous album she was more pointed by including a more direct message with affirming feminist principles. Beyoncé took her #blackgirlmagic to a new space with Lemonade. She continues to let to world know that she is a strong black woman. When we all thought hot sauce in her bag was a condiment it was revealed that Hot Sauce is a baseball bat; a bat ready for some smashing. This "C" touches on people who are consistent with their beliefs and convictions. There have been many messages that come from Beyoncé but girl power has been one, like this "C" states that's always been present. Through the images and lyrics she evolves a conversation that's been going on, while remaining congruent.
COMMITMENT
Having a significant investment in an idea or person for any type of duration shows a certain level of commitment. Anyone can be a one hit wonder. You can easily attend one meeting or program. To sustain the message for a period of time, shows that you care. I won't sit here and call Beyonce an activist. I will say though, that she's made some messages about police brutality, starting with imagery in the video for Formation. She followed that up with a Super Bowl performance filled with dancers alluding to the Black Panthers. Which brings us to appearances made by the mothers of Oscar Grant, Trayvon Martin, Eric Garner and Michael Brown. Including these women, these mothers of a new civil rights movement during the song Freedom is a statement. It's a sign that there is commitment to keeping their sons' memories alive and a representation of the strength possessed by these women.
COLLABORATION
By no means is Beyoncé's Lemonade a solo project. Like almost every album there are 
multiple writers, producers and musicians that make an album magic. The visual album particularly brings to light two amazing artists from genres other than music. Warshan Shire's poetry is powerfully laced throughout the vocals.   Khalil Joseph is an award winning filmmaker who was behind much of the  direction of Lemonade. You have to be able to work with people different than yourselves to reach the highest level excellence. They provide outlooks that you might not ever seen.
COMMON PURPOSE
One of the biggest aspects of this component is involving others in the group vision. Can you bring others together to help in defining the the vision? Beyonce does this with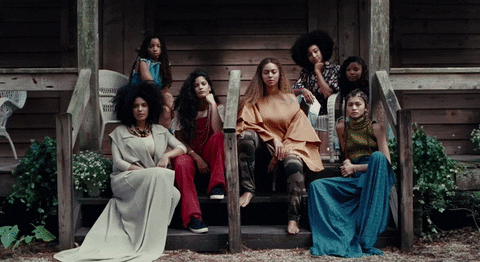 some important cameos. As discussed earlier, Lemonade was provided an artistic voice for and about Black womanhood. The other black women featured included the likes of  superstar tennis champion, Serena Williams dancing and Civil Rights activist and Chef, 93 year old Leah Chase. Two young women who've been vocal about their blackness on social media, Zendaya and Amanda Sternberg both made appearances. The youthful and Oscar nominated, Quenvenzhane Wallis was in the video holding Blue Ivy's hand. Winnie Harlow, a model with a rare vitaligo condition and Ava Clark a child model born with albinism were also present. Beyonce brought 
together black women from all walks of life. All ages and generations were present. Different shades of black, hair textures, sizes and shapes  saw time in Lemonade. It is essential as a leader to collect other voices that aren't exactly like yours to display unity.
CITIZENSHIP
Beyoncé as an artist has rarely made any statements or commentary to ruffle up feathers or speak on behalf of a specific community and their issues. Lemonade's first single Formation started the dialogue on addressing the community. Citizenship discusses being responsibly connected to the community and society through leadership. Formation took that step. Beyoncé spoke up musically; From the multitude of images alluding to police brutality and struggles of New Orleans since Katrina to her message sending performance at the Super Bowl. As a one of the biggest pop artists in the world her visuals and the conversation to follow helped shed even more national light on the welfare and concerns of the effected group. This C is about the rights and voices of others. Lemonade does that same thing with commentary on women's empowerment, relationships and more. It wasn't speaking to everyone but particular groups were certainly targeted and listening. Don't be afraid to use your strength and specific skill set to reach the masses. If you aren't the greatest orator but are an amazing chef; cook your way to leadership.
CONTROVERSY WITH CIVILITY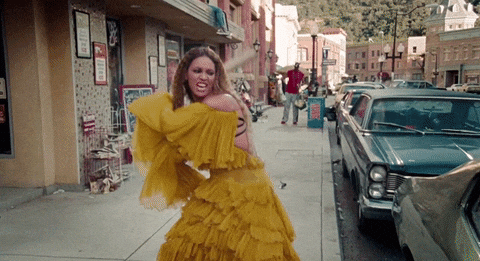 This "C" states that differences in viewpoint are inevitable, and that such difference must be aired openly but done so with civility. Nothing is perfect and that includes leadership. You might put together a great event but behind closed doors there were arguments and bickering. Lemonade in turn opened a door into infidelity and  "it's complicated"  type of relationships. Many speculated that this project was about her and Jay-Z's marriage. Whether that is true or not, there was conflict brewing. The film opened up with questions about a relationship. The song "I'm Sorry" was brash and open about the issues. As in leadership situations, solutions don't come 
easy but with open dialogue, they will show up. The last video, All Night, is all about taking steps towards answering issues raised throughout the entire project. Lemonade could have ended on an ugly note but instead the final images were all shots of love and community. Love
all night long was the closing message. You won't always be be best friends with those you work with. Not everyone will be rooting for your success. Don't be afraid to embrace these negative times. Embrace them, addresses them and move forward.
CHANGE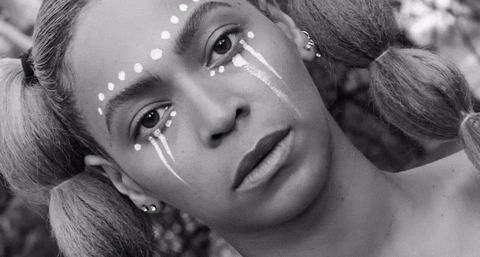 The alternative 8th "C" is change. I wrote this piece and we work hard at Trill or Not Trill to continue to change the norms and the characteristics associated to student leadership and development. The more transformative ideas we attempt to investigate and the more visionary educators who continue to push envelope will only make our society a better place.
Where else could you see Lemonade intersecting with The Social Change Model?
Oh yeah. One more thing. Does anyone have an extra ticket to the Formation Tour?
Stay trill, folks.
MrJeffDess
MrJeffDess is a writer, professor, public speaker and emcee of Haitian descent. He is an author of 4 books of poetry, including his latest, Deconstructing Ratchet. With over ten years of performing and student affairs experience under his belt MrJeffDess continues to strive towards helping students reach their highest potential. For booking information, contact MrJeffDess at mrjeffdess@gmail.com