Big Bang Theory's Guide to Commuter Students
Trill or Not Trill?
Throughout my professional career in higher education I have always had a place in my heart for commuter students. My story differs a lot from other student experiences because I was fortunate enough to have a support system that enabled me to become a highly involved student while not living on campus. Unfortunately, that story isn't the case for many commuter students. Commuters represent over 86% of our college going population here in the US (Barbara Jacoby, 2000). Commuter students play such a large role at our campuses- whether it's retention, their involvement in activities or even giving their sometimes very different perspectives in class. So why do commuters fall through the cracks? Often times they are simply viewed as coming and going to class, and could even be labeled outsiders and not a real part of the college community.
Enter one of the most highly rated comedies of our time- The Big Bang Theory. The show concept centers around stereotypical groups such as geeks and nerds and their interactions with other people. The show is hysterical- especially for those of us who appreciate sharp, witty and sarcastic humor. But at the core the show actually does center around real issues. You've got observations about how society views people that may not fit into the "norm" and how those particular individuals handle those interactions on a daily basis. From Raj's constant need of love to Penny's handling of how society sometimes thinks she is nothing more than a dumb blonde- the show touches on real life. You've even got some mental health awareness with Sheldon's tendency to be OCD.
Coincidentally, The Big Bang Theory also gives us a glimpse of what it's like to be a commuter student. Now that I've got you intrigued…sit down on the couch (no, not that spot), grab your Chinese food and dive into The Big Bang Theory's guide on how to make commuter students feel at home at your institution. This guide can also be used as a perfect training session to assist for Orientation Leader training which I'm sure is on the minds of all SA professionals!
1) Acknowledge their presence.
If you pull up google scholar or any other scholarly resource you will be able to find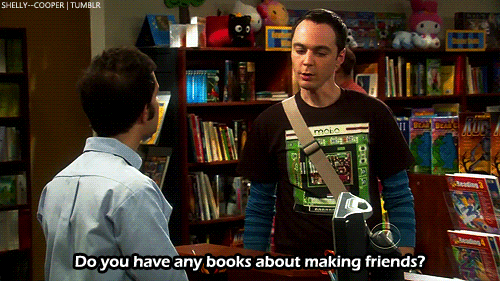 tons of research that point towards the struggles of students transitioning from high school to college. There is no shortage of what could go wrong and could potentially impact a student having a great initial experience. With commuter students the threat increases partly due to the population spending less time on campus as whole. Residence students live on campus and are obviously more likely to meet at least one person they can connect with. A lot of times commuters come and go and barely interact. As professionals and student programmers we must work to not only acknowledge the presence of commuter students but be intentional on how we do it. Events that focus on commuters (and even having the word "Commuter" in program titles) are a great start!
2) Recognize their locations on campus
Something Sheldon is known for on The Big Bang Theory is ownership over his favorite seat on the couch. It's where he is most comfortable and feels relaxed. Commuters have those exact same traits! If you take a moment and observe you will notice that groups of commuters claim their ownership over different parts of the campus. It could be the student union lobby or a random lounge in an academic building. Use that knowledge to your advantage! Host programming, meetings and other events in those common spaces. In most cases once commuters are on campus they will not be moving around much besides going to and from class. These are excellent times and locations to do things such as passive programming- which involves events that are on-going such as "make your own license plate" or a game show.
3) Be receptive to particular needs
Not all students have the same needs and wants- this we know. What tends to be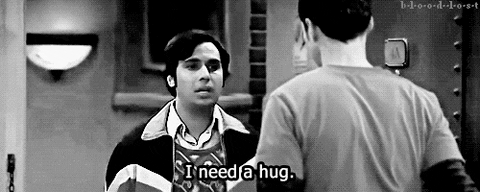 forgotten is not all commuter students are cut from the same cloth either. When looking for ways to engage and provide keep in mind the many outside factors that could determine a commuter's ability to connect with their campus. A couple of colleagues and I came up with 4 terms to assist with this ideology- In the Nest, Out of the Nest, Independent Transport and Dependent Transport. As you can imagine, each category speaks to several factors that could affect commuters ranging from transportation options to their family situations and other outside commitments like employment. Being receptive to commuter needs can even be as simple as the prizes you are giving away at events. Giving out an 11oz bottle of Tide is a great prize for a residence student…for a commuter who takes the train…not so much.
4) Develop a task force/ commuter life program
I may have just heard you groan from miles away. A task force you say?! The answer is yes. If a successful committee can be formed to tackle commuter issues, all of what I've mentioned up to this point can be approached cross-functionally. You want to ensure that all stake-holders are considered while creating the task force…especially commuter students. Keep in mind that sometimes it only takes one commuter catalyst to create a culture of change. I was that catalyst when I was a student. The Director of Student Activities reeled me in and we created a successful commuter life program. We were able to survey students and offer great programming. Having a group in tact can also afford individuals time to research best practices at other institutions. There are great ideas such as Commuter Assistant programs that offer commuter students ways to get involved, sometimes get paid and become even more connected to the institutions.

5) GASP…work with Academic Affairs
If you scoffed at my previous suggestion you probably rolled your eyes at this one! As with most college campuses, the idea of Student Affairs and Academic Affairs working together is as absurd as the thought of Penny becoming close with Sheldon, Lenny and co. But…as the Big Bang Theory showed, it's possible.
As my students suggested, you can even go as far as to consider Penny "Student Affairs" and Sheldon's group "Academic Affairs". When everything clicks, the product is amazing. Commuters spent the majority of their time on campus in classrooms so why not work with faculty to try and engage? Using a couple of minutes of class time at the beginning to hand out surveys or make announcements is something that could be considered. You can also work with faculty to suggest extra credit to students in their classes for attending events. I also fully believe that a College-101 course is highly effective when both Student Affairs and Academic Affairs are present.
Now you have the some ideas and suggestions to reach out to the commuter population at your school. Go ahead, get creative and most importantly…have some fun in the process!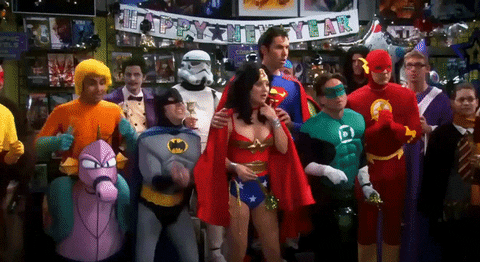 Till the next time,
Scott. Scott. Scott.
Scott Siegel-Ortiz is a well-rounded higher education professional with over 8 years of dedication to the development and success of students. His passion for making an impact knows no boundaries and is constantly striving to reach the next level while encouraging his students to do the same.
Scott also loves long walks down the aisles of Target and likes to post lots of pics of his cats on social media.