How many shots of leadership can you pick out in today's Leadership Shot?
I was upstate with a few friends, laughing, having a good time when the news hit: KD to Golden State. The shock of the biggest sucka move I had EVER witnessed in the NBA reverberated through the entire room, bounced back into the TV and back at us again. Commentators on all networks echoed the same theme, OKC is done.
Then came the question, what will happen to Russell Westbrook? Durant did him dirty, he has to go. Why would he want to stay? He has to be going to the Lakers. The front office has to trade him, right?
The gossip surrounding the split of the two stars got worse. We heard Durant never notified Westbrook he was leaving. Then it was Durant told him he was going to stay. Then it became he has to be traded immediately. Westbrook masterfully took the first of his 2 steps into the Leadership Hall of Fame. He saw an opportunity to step up and he firmly rose up and calmed the masses simply by saying, I don't want to be traded, I want to be here next season. In the classroom, on campus, in gatherings with
your peers, it is important not to be distracted from opportunity by the immediate events. Westbrook could have been swept up in the emotion and fanfare of it all. He could have shrunk down into voiceless obscurity, but he saw through the fog, plotted his course of action and pounced on opportunity. If your campus community group or club has an opening where you believe your contributions would be effective, pounce.
What impressed me the most is that Russ' small statement said quite loudly, I WANT TO LEAD! Can you believe that in this era of the NBA, someone actually said they wanted to be the guy, the one to lead his group to victory? Even more impressive, he did not let it drag out. On August 4, 2016 news broke that Westbrook signed a new 3 year extension to stay in OKC. Leadership opportunities are fleeting. For all we know if that contract wasn't pursued, we might have very different headlines by now. Russ knew that and so should you. It can be a simple as answering questions in class, to spearheading the plan for an event on campus. You've asserted your willingness to lead, now follow through.
A quality found in all good leaders is the ability to embrace challenge. Will leading a team sans Durant be difficult? Obviously so. He knew that much already. Will capitalizing on your opportunity be easy? No. There will be pressures and expectations abound and you will have to live up to them all. The most poignant moment for Westbrook was at his press conference, where a reporter asked Russ if Durant leaving for the Warriors made it sting more. "Sting for who?", Russ answered defiantly. Challenge accepted. He's ready to leave a legacy.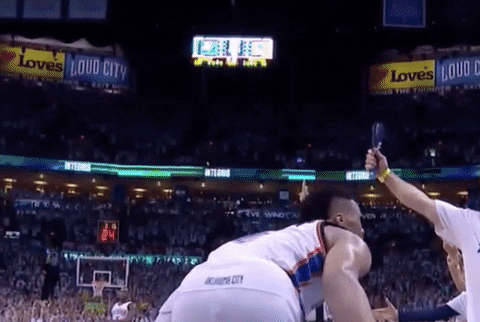 When your time comes, fearlessly take the challenge, brush off the sting, be ready to lead. Oh, and by the way, Russ for MVP!

Soye Tom-George is a lover of all things education, sports and hip-hop. He is a former teacher and football coach that now works as Business Assistant at the Board of Education in Orange, NJ. Soye earned his degree and St.John's University in Jamaica, NY (coachitom@gmail.com)
Twitter: @urbanepiphany
Instagram: @mrsoye