Meryl Streep And Effectively Using Your Platform
Trill or Not Trill?
During this past weekend's Golden Globes there were a few memorable moments. You knew that once Jimmy Fallon's teleprompter stopped working during his monologue, it was going to be a special night. We even saw SpiderMan and Deadpool make out during Ryan Gosling's acceptance speech. But one of the most monumental moments of the night was also the most controversial and talked about speech of the night delivered by Meryl Streep. After accepting the Cecil B Demille award for lifetime achievement she spoke for more than 6 minutes about our many things including, President-Elect Donald Trump.
What I thought was important about this moment is that she used her platform on a stage that was filled with influential celebrities, directors, writers etc. There's a lesson that can be learned here about how to use your influence to make a change. This is not limited to politics but also among your student government clubs, Greek organizations and even your neighborhood. Here are a few tips you can learn from Meryl Streep's speech.
We have all have a platform
It's true. We all have different platforms in different parts of our lives. You may be more influential in one part of it and not others, but we have it. This was the perfect timing for Meryl Streep, an actress that has been relatively active in politics, accepting a lifetime award on the Golden Globes that had 20 million viewers. Understanding that timing is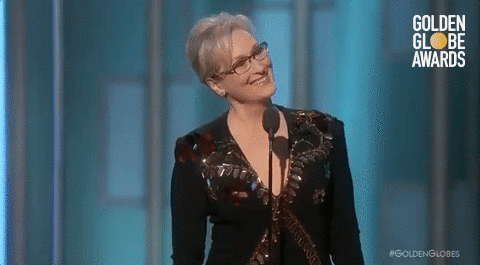 essential, she used this moment to deliver the most impeccable speech. Find your platform and figure out where it can work the best. If you are in a Greek fraternity/sorority you will have more pull with those organizations than you may have with Student Government. Use that to your advantage and find others that have platforms that can help you in your journey. Your platform may also simply be a characteristic you were born with such as gender, race, and sexuality and so on. These can be used as platforms to help spread a message you are passionate about.
Don't be afraid to call people out
Anyone that won an award that night could have made that speech, or at least commentary about the state of the country. No one else did. That's because it takes a special kind of character to call people out on a stage that large. Even when you have your platform sometimes it is either used improperly or never used at all. Some platforms are earned while others you are given but they are worthless if they are not put into action. She was fearless in calling out Donald Trump but she did it strategically. She never actually attacked him. She talked about how his actions hurt her. She made it about herself and her feelings. This is Communication 101. When calling someone out it is best to tell them how their actions may have hurt you or others. Using statements such as "You are incompetent" is much less effective than explaining their action and how you feel about them. But don't be afraid as you there are people that will feel just as you do that will support you.
"Disrespect invites disrespect, violence invites violence"
This is one of the most powerful quotes that she uses in her speech that meant the most for me. Take a second to reflect on the leadership around you. If you are the leader reflect
on yourself. What is it that is being promoted? What is the message that is being told? Being a leader comes with a ton of responsibility because of the influence you hold. I have worked in places where co-workers gossip and hardly interact and others where people enjoy their work and are efficient. These cultures start with leadership. The platform in which you sit on is a vehicle to those you influence. When you are a leader you set that standards for your followers, employees, club members. Be sure to do it wisely.
Bring your people in
Towards the end of her speech, she asks for the help of her fellow actors. She tells them about the influence they hold and how they can help in creating outrage. The great thing about that moment is that the audience to whom she is speaking to has a very similar influence in society. They can take the same actions on their own platforms to ignite change. Work with those that may be in the same position as you are and ask for their help. It is easier for those that hold the same platform as you to relate to you. Look for other club presidents, same-level administrators, co-workers to take a stance with you. Those who are unwilling to take the first step will often do it with someone they trust.
I saw the speech by Meryl Streep as inspiring for me as someone who is passionate about social justice and culture change. I hope that wherever you are, you begin to think about how to use your privilege, platform and influence to make your place even the slightest bit better.
.
Antonio Talamo is a young higher education professional that has experience working in Student Activities and Advisement. He has brought his talents to Montclair State University where he will be the Coordinator for Commuter Students and Programs . He has grown from a go-to-class-go-home student to a professional who is passionate about giving students the best college experience at any level. He is a huge sports fan that loves the New York Giants and the Boston Red Sox and swears he is the reason the Red Sox broke the Bambino curse.
#GYLT #GetYourLifeTogether