Whether or not you follow baseball, I am sure your Twitter, Instagram, Facebook and/or Vine's feed featured Jose Bautista (Toronto Blue Jays) taking a punch to the face after sliding hard to second base against the Texas Rangers.
Now, that description does not due to it justice without talking about some of the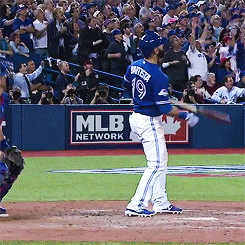 history. In last year's playoffs after hitting a game winning home run Bautista flipped his bat and watched as the ball took flight to right field. Showing any sort of arrogance or emotion after hitting a home run is a "no-no" in baseball. Grown men are sensitive too apparently. Since then, there has been a strong animosity between these two teams. So you can imagine, how upset the Rangers were when Bautista slid late and hard, in an attempt to take out the 2nd basemen's legs.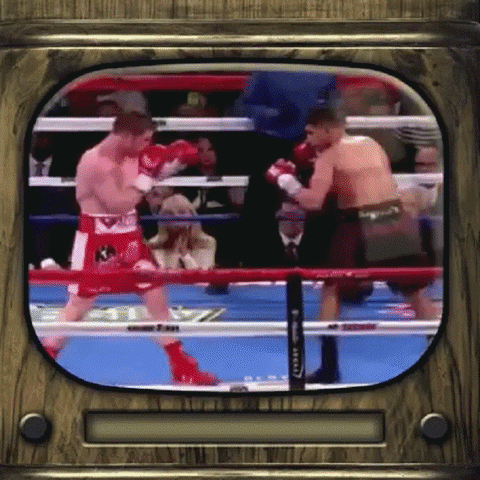 Bautista was wrong, yes. But things escalated rather quickly when the 2nd baseman Rougned Odor took a swing at Bautista, which mirrored the same punch that Canelo Alvarez took to Amir Khan's face the previous week on HBO Boxing that knocked him out. I am not a big fan of violence especially not over a game where grown folks are playing. With that being said, it is important to learn how to react and disagree professionally with coworkers, student government members and superiors alike.
Don't Make a Scene
If you come from  the school of  anger and disagreement being best expressed by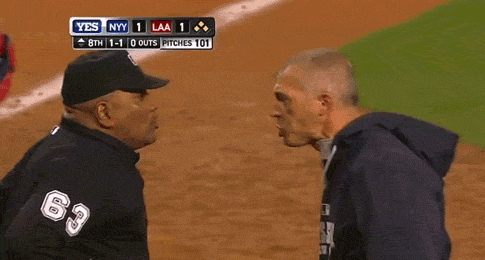 yelling and indignation, it's time to check that at the door when being a student leader and professional. In baseball, it is common for umpires and coaches to be in each other's face screaming about a call they believe to be wrong. In the work place and as a student leader, it is best to pull that person aside and keep your cool when trying to offer your perspective. If you are in a position of power, you do not want to yell at a member of your organization or employee in front of everyone. It makes people defensive and not open to feedback. Pick a place that is most comfortable and enclosed so that the conversation is between just the two of you.
Let the Umpires decide the game
Sometimes we just have to remember that there are people in place to decide consequences to problems. You don't have to try to take on the battle on your own. For example, the Bautista slide to 2nd was illegal according to the MLB's new rule. The umpires would have thrown him out of the game and he may have likely faced a fine. Odor, in this case, took matters into his own hands (literally) and got thrown out of the game when he had no fault to begin with. He will probably get suspended and fined. As a student leader, seek out your supervisor, president of the club or advisor who can help to provide perspective on the matter and help with the situation. Sometimes, simply reporting behavior can make for an easier resolution. You don't want to react and hurt your team when they need you most.
Don't be a Jerk
Calling someone names or insulting them is certainly not a good way to have someone listen to you. The moment you use words like "You don't do your job" or "You're an idiot" makes whatever you were suddenly arguing about no longer relevant. It
becomes personal. We don't exactly know what Bautista said to Odor and vice versa after the slide but I am sure it was not pleasant. You may have to lower your ego, even when someone has done something wrong and communicate how you feel rather than throw a punch. It is so much easier to get physical or even make fun, but it is not a productive way to solve the problem. Sometimes taking some time to walk away and re-visit may be a better option than trying to react while angry.
Bottom Line: Getting physical and violent will never get you anywhere in student leadership and in your professional work space. It can get you fired, kicked out of school and in trouble with the law. You do not want people that work with you to be afraid that you'll hook off on them. Sometimes people are going to piss you off and challenge you. It is up to you to determine what happens next. Take a deep breath and be the better person in order to solve the issue at hand (not with your hands).
Don't let the staff meeting get to this.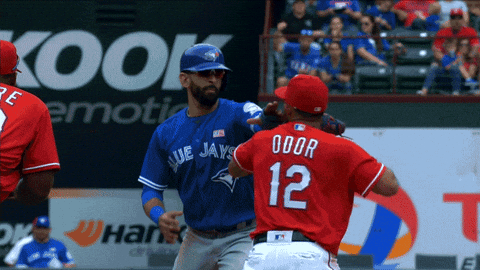 #GoRedSox
Antonio Talamo is a young higher education professional that has experience working in Student Activities and Advisement. He currently teaches a College Student Success course for first-semester students where he speaks of topics from time-management to student leadership. He has grown from a go-to-class-go-home student to a professional who is passionate about giving students the best college experience at any level. He is a huge sports fan that loves the New York Giants and the Boston Red Sox and swears he is the reason the Red Sox broke the Bambino curse.
#GYLT #GetYourLifeTogether