Before I begin my leadership lesson, it is only right that I tell you how I played a role with the breaking of the Bambino curse. I became a Red Sox fan in 2003. That was also the year my heart was broken when Aaron Boone, of the New York Yankees, hit the series ending home run against Tim Wakefield. It was my fault, I thought. I was too arrogant, and I didn't respect the game. In fact, I hardly watched that playoff series.
The following year, after a great season, we got our chance to face the Yankees again. This time I watched every single pitch of every at-bat but after being down 3-0 to the Yankees I knew what I was doing wasn't enough. In game 4, I decided to wear my Red Sox shirt and hat, while drinking hot chocolate. That's when they won their first game. At first, I thought it was coincidence, until the next night when I wore the same exact clothes and sipped the same exact drink. It was the winning formula. That season, the Red Sox did the impossible and came back to beat the Yankees 4-3 and went on to sweep the Cardinals in the World Series. Guess what I was wearing and drinking those four games? You guessed it. So, you're welcome Red Sox fans.
Anyhow, the only player that has remained consistent since the first World Series in 86 years has been Big Papi, one of the most iconic Red Sox players since Ted Williams. He is a hard-hitting ball-crushing player that fears nothing and no one. If you need a 9th inning homerun he'll give you that. If you need a double off the Monster he'll give you that. And this year he is retiring at the age of 40 years old. Not because he can't hit anymore (unlike A-Rod) but simply because he wants to retire on top. In fact, he has had the best season for a 40 year old in baseball history. Watching him throughout my life I have learned lessons about what it's like to be a leader in the spotlight and through tragedy.
He was loyal even when things were bad
Since the 2004 World Series, they went on to win two more after that. However, the seasons in-between were some of the team's worst in its history. Big Papi always stayed true to Boston and never found a reason to leave. It's hard to stay loyal when things aren't going your way but he understood the importance of standing by the bad times too. You're going to come across those moments when your club or organization may experience some bad turbulence. Don't just give up. Be the person who sticks around long enough to build it back up to be successful again. That will say more about you as a leader than if you became a bandwagoner (someone who switches from team to team depending on their success). The Red Sox were able to gain their ground because of Big Papi and his willingness to stay with the team.
He embraces the big moments
Say what you want about Big Papi, but he was clutch. He has single handedly carried the team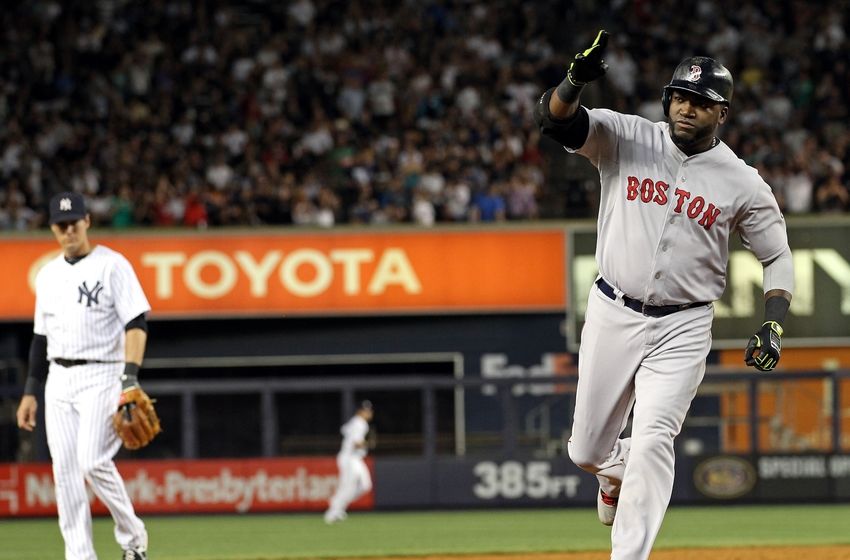 on his back plenty of times. In the postseason thus far, he has proven to be a .295 hitter with 17 home runs and 60 RBIS. He even had back-to-back game winning home runs in the series where the Red Sox came back from a 0-3 deficit. One of the things I've noticed through my short career in Higher Education, is that some students are afraid of putting themselves in the spotlight because they are afraid of failure. They aren't ready for the pressure that comes with being great. Truth of the matter is, you'll never be ready. You just have to believe that as long as you're putting in the work in you'll hit a 9th inning home run. Sometimes you'll strike out, but at least you went down swinging.
He isn't good at everything
One of the things I appreciate most about David Ortiz is that he accepted and embraced that he
is only good at one thing; hitting the baseball. He didn't try to get better at playing first base or even felt the pressure when young guys were coming up. He focused all of his efforts at becoming the best Designated Hitter (DH) he could be. I think many of his efforts would have been wasted if he tried to become a position player because that's not who he is. It may feel like you need to be a Bryce Harper or Mike Trout; A player that has power, speed, agility and great athleticism. But the students in between that have those specialized skills are just as rare as the ones that are well rounded. In fact, I believe a good team is more efficient when you have members that are REALLY good at one thing. It helps them to be more focused and concentrate on what they care about the most.
He is never afraid to speak his mind
Big Papi has never had a problem telling off the media, calling out players or making political commentary. He recently called out Trump saying that his comments were a 'slap in the face'. He then continued to say that, "As Latino people, we deserve respect, no matter where you're from." He was never "politically correct" and didn't avoid the uncomfortable conversations. He has even talked his 2003
failed drug test and how it still "haunts him" today. One of his most famous quotes, that even President Obama said was one of his 'proudest moments', came after the Boston bombing. After thanking the police he announced,  "This is our fucking city" which lead to an uproar in cheers. Be aware of your platform and do not be afraid to stir up controversial conversations, as sometimes they are necessary for culture change. You will be appreciated as someone who speaks honestly and will fight for what is right.
He knows how to have a good time
Lastly, I love that even at 40 years old he always has a big smile on his face and looks like he's having a great time. He's always known to play around with the batboy or laugh it up with the opposing team. He's even pretty hilarious in ESPN commercials. Most recently he even went undercover as a Lyft driver.
Listen, college is meant to be fun so don't take yourself too seriously. Put in the work but enjoy every moment of it because one day it will be your time to retire as well. Big Papi played his final game last night,  but your adventure has just begun.
Antonio Talamo is a young higher education professional that has experience working in Student Activities and Advisement. He has brought his talents to Montclair State University where he will be the Coordinator for Commuter Students and Programs . He has grown from a go-to-class-go-home student to a professional who is passionate about giving students the best college experience at any level. He is a huge sports fan that loves the New York Giants and the Boston Red Sox and swears he is the reason the Red Sox broke the Bambino curse.
#GYLT #GetYourLifeTogether