What Radio Raheem Could Teach Your Students
Trill or Not Trill?
Actor Bill Nunn recently passed away. He was a veteran actor, who I will never forget for one specific role. Do The Right Thing is one of my favorite Spike Lee Joints and Radio Raheem is one of the most memorable characters from the film. Many of students are not familiar with Radio and it's time that they get to know. There's a lot they can learn from this powerful character and wonderful performance by Bill Nunn.
Find your soundtrack

Radio Raheem didn't take a step without his boombox. As he walked around, Public Enemy's Fight the Power blasted throughout. Not only was this a representation of Radio Raheem but it served as a great backdrop to the film. A soundtrack can easily set the tone and helps tell the story. When people see you in your space what music is playing or what emotions are being evoked? As student leader, find a space for music. What are the sounds that motivate you or calm your nerves. Create your personal playlist that prepares you for the big meeting or big game. What songs would you include to help define your personality or excellence?
Culture matters
Radio Raheem's interaction with the Korean store owners was a memorable scene. As a student leader you will be running into different types of people. You may have to deal with students from completely different regions. You might have a group of international students attending your meetings. A key component of leadership is being able to handle the differences and take it all in stride. Cultural competency enhances your skills as a leader. Don't get frustrated as Radio did. Instead learn more about the lifestyles and characteristics that are unlike your own. Don't let language barriers or accents be a hindrance to effectively communicating. Although aggressive, Radio tried to help the store owners pronounce the word March correctly. (Alright maybe he wasn't being too helpful, but that doesn't mean you can't be.) *Language in video NSFW

Be an active member of the community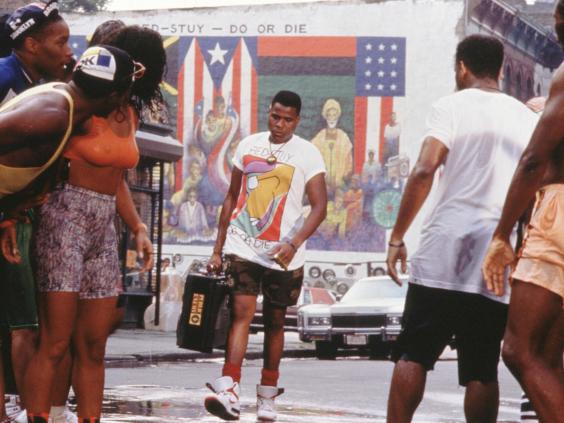 Radio knew everyone and everyone knew Radio Raheem. He was part of fabric of the neighborhood. Get to know your community, your classmates or club members. Don't be a student leader who arrogantly thinks they're better than others. Interact with as many people as possible. Such a gesture lets people know that you care about more than yourself. Often times as a leader, you become the face of an organization, team or club. The ability to get to know the people gets them more interested in your movement and the things you represent.It is never solely about the individual and is always about knowing, understanding and motivating the people.
Carry the Weight

Radio Raheem carried his huge and heavy boombox (to my young folks, a boombox is a giant device that played music from the radio and via cassette…and a cassette is, well just look it up lol)throughout the film. Not only was he carrying the sounds of hip hop, but on his shoulders was the weight of the neighborhood and culture. As a student the leader you'll have to carry a bit more than others. Not only must you pick up some pieces, but you'll have to know how to hold them together as well. There will always be pressure on the leader to do more than the student who is not involved.  The volume is loudest when you walk into the room. The people are watching when you make moves. Don't let them break your radio and make sure you have enough batteries.
The past repeats itself
Radio Raheem's tragic death eerily brought to life with the recent deaths of black men at the hands of law enforcement. Eric Garner being killed by an illegal chokehold from the NYPD reminded so many of Radio. As a student leader, it's important to understand that any issue you run into has happened in some capacity already. Get to know upperclassmen, faculty and administrators that have been there before. These are the people who may have seen the struggles before. They can help you avoid the mistakes that occurred once before. Don't get caught out in the open because you could not see something that has already occurred.
Love conquers all.
At the end of the day; just listen to this monologue.
MrJeffDess is a writer, professor, public speaker and emcee of Haitian descent. He is an author of 5 books of poetry, including his latest, Trill Motivation With over ten years of performing and student affairs experience under his belt MrJeffDess continues to strive towards helping students reach their highest potential. For booking information, contact MrJeffDess at mrjeffdess@gmail.com