When everything gets overwhelming; classes get too much to handle, you are not sure if your major is the right one, a minor- what's that? Who can help you handle that? Who will show up in their white hat and drag you into the sun? Your Academic Advisor.
College can be difficult, especially the academic in's and out's. Your advisor is your go to person for it all. Though focused on your academic skills, you advisor can be a lifeline during your college years. Many of the advisors have more skills than just amazing scheduling abilities and who the best professors are. Life happens, and it affects your academics; so talk to your advisor! They may not be able to cover up a large Scandal like B613 or rigging elections (don't put it past them); but they are able to help you through an array of problems because everything that happens will affect your grades, classes, and college career.
Now let's break down some of the traits that Olivia Pope and her team have: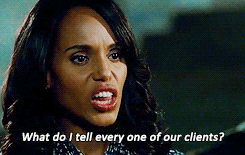 Transparency- Olivia Pope and Associates (OPA) are 100% upfront with their clients, making sure they are aware of what they are in for. Your advisor is the one who will tell you exactly what you need to do in order to reach your goals. Don't have enough credits? They will let you know, What you choose to do with that information is up to you; just know… OPA is ALWAYS right.
Critical Thinking– There is a reason why OPA is the leader in crisis management in the capital; the Gladiators are creative in how they handle every scandal or problem that comes across their table. No page will go unturned when OPA is on the case; in the same way your advisor will do whatever they can and use every tool in their bag to help you; as long as you are willing to work with them!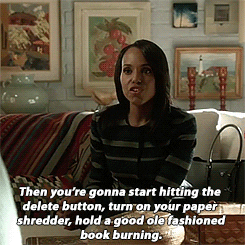 And lastly, Discretion– Olivia and her team of Gladiators in Suits are known for their ability to keep a secret and make sure that their clients are well protected. Aside from federal regulations that require your advisor to keep your privacy (FERPA); they care about you! Despite what you may think your advisor wants the best for you. They want to see you be successful, because your success is theirs! No matter what you tell them (within in reason) they will keep it to themselves.
When you think of your academic advisor as your own personal OPA you will be well equipped for handling all the 'Scandals' college will throw at you. Many of them will be able to "hack into" your schedule like Huck; spy on you in your classes like Quin; organize your life like Abby, sweet talk your professors like Marcus, or just overall kick-butt like Olivia, your advisor is your gladiator!
Now… put on your white hat, grab your sunscreen and go stand in the sun with your amazing advisor.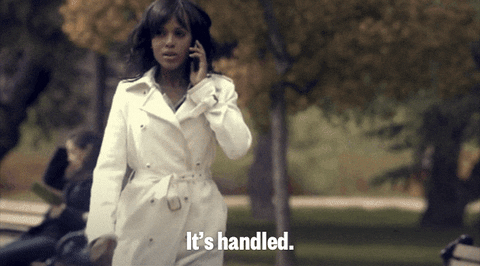 Sabrina Spadafino is a higher education profession that has worked in almost every office on a college campus! With over 9 years of experience in the industry she strives to make the best of her students and the staff she has been privileged to work with. Student Success is her goal, and failure is not an option. She is the proud mother of a beautiful little girl named Bella, and loves to bake cupcakes!