What Educators Could Learn From Donald Glover's Acceptance Speeches
Trill or Not Trill?
Atlanta was easily one of the trillest tv shows of the year and the Golden Globes rewarded them. Donald Glover won for best actor in a television series and the show took home best comedy series.
The actor and MC took the mic and dropped some gems within both acceptance speeches. There were four specific moments that stood out for me.
Glover took us back to some childhood moments when he said, "I grew up in a house where Magic wasn't allowed." This poetic statement reminds me of how much extra work we have to do at times.
Push your students to find their own magic within. Don't try and stunt their creativity. Your students are going to want to try new things.They'll bring new  ideas to the table and you should let them serve those creative juices. I've sat down with students who have brought non traditional suggestions to me. Initially, it might sound a bit out of whack but that's what education is about. It's about letting the magic happen. They might be scared at first to take a chance or trust their own amazing ability but that is were we come in. Allow for those spaces to be explored and cultivated. Some of the greatest moments or programs happen when the excitement flows and is allowed to be expressed freely.
Glover added, "My dad used to tell me every day, You can do anything you want." Even our best most confident students will run into a roadblock throughout their academic careers.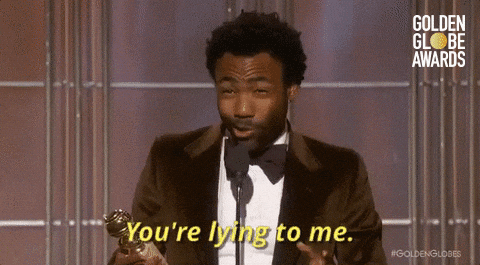 They might have doubts about graduation or selecting their major. There may be fear to run for president of an organization or applying to a particular job. We have to make our students believe in their own greatness. Push them to believe in all the possibilities that are out there. Let your students know that their potential is limitless. At times, we have to be the parents or the coaches. We are the mentors who just as Donald's dad told him, must remind our students that they can do anything they want.
In his second speech, Glover thanked the city of Atlanta. it wasn't just about showing
praise, he said " I really want to thank Atlanta, and all the black people in Atlanta." This reminds me that we have to fully embrace our student's cultures, races, and identities. Allow them the space to be proud about who they are and where they come from. I also push my students to learn and discover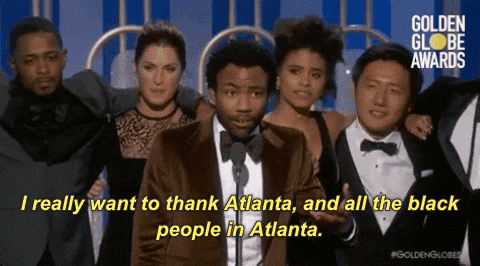 more about their cultural backgrounds. I was an undergrad when I learned the most about Black culture. It helped shaped the person that I am today. I push my own Black students to learn more about the Harlem Renaissance. I encourage my LatinX students to discuss the complexities of Fidel Castro. I ask my Filipino students to learn more about their historical background in America. Find out more about their musical stars and foods that they eat. Be thankful, as an educator to get the opportunity to engage in such meaningful conversations. Cultural competency builds bridges, so let's openly travel across them.
Here's one last  thing, a bunch of your students are listening to Bad and Boujee. Now you might not be rocking to this record but you better know who Migos are. To be a game changing and trill educator, being culturally competent and relevant is a requirement. We can't be the old person on the porch, yelling at the kids to get off their lawn. Glover referred to Migos as the Beatles of this generation. As outrageous as that may sound to some, it's important to understand what your students are into. Having some genuine knowledge in their interests will open doors. Don't fake it either, because the young people can tell.  So when someone say Rain Drop, be sure that you know what to say next.
Congrats to Atlanta, now my fellow educators, go do the work.
MrJeffDess is a writer, professor, public speaker and emcee of Haitian descent. He is an author of 5 books of poetry, including his latest, Trill Motivation With over ten years of performing and student affairs experience under his belt MrJeffDess continues to strive towards helping students reach their highest potential. For booking information, contact MrJeffDess at mrjeffdess@gmail.com